Despite traditional social media platforms being centralized, these communication hubs remain a game changer for Web3 companies wanting to boost their brands.
Social media platforms are significant conduits for connecting people, building communities, and disseminating global information — to boost your digital presence, build brand awareness, attract customers, engage with your audience, and propagate your brand message.
Through the interactive capabilities of traditional social media platforms, you can engage with your audience directly, irrespective of geographic barriers. Therefore, cultivate relationships that can boost your Web3 business to new heights.
So, keep reading to learn the importance of solid social media and online presence. There is much more to utilizing these communication platforms than what initially meets the eye.
5 Top Ways to Create a Strong Social Media Presence
Follow these five top tips and establish your Web3 business as credible over having an authoritative online presence that increases visibility, engagement, and success.
Identify Your Target Audience
Thorough market research on various social media platforms and apps provides insights into demographics, preferences, and behaviors, forming the basis for an effective social media marketing strategy, therefore, successful Web3 project.
One key tip includes tailoring your messaging, tone, and visuals to directly address your audience. By doing so, you can stand out amidst the social media noise, increasing engagement and attracting new followers on a global scale.
Moreover, understanding your audience aids in making informed decisions about goals, products, services, prices, and marketing strategies.
By aligning brand offerings with customers and their needs and preferences, you can deliver value to customers and create targeted campaigns to attract new customers.
In addition, analyzing engagement metrics from customers and user feedback refines your content strategy, optimizing for audience preferences to create a happy community.
Choose the Right Platforms
Various centralized Web3 social media platforms attract different demographics and purposes, so choosing one which aligns with your audience and brand's goals is most important.
Platforms like Discord and Telegram have become popular communication platforms and channels for the Web3 community. On the other hand, Twitter is a famous platform for sharing insights and updates.
Reddit is another excellent channel for building a community around your project and fostering engagement among investors, customers, and supporters.
Because there are so many social platforms to pick from online, users must understand each platform's unique strengths and features. For example, Discord allows for real-time conversations and online discussions, whereas Medium offers longer-form content that can provide more in-depth insights into your project.
Furthermore, it's crucial to consider the amount of resources and time you have available to devote to each platform. Web3 projects often require more technical knowledge, impacting the types of websites and social media platforms you pick and how you present your brand.
Develop a Content Strategy
With the rise of social media platforms, apps, and blockchain technology, your Web3 project must create a successful content strategy that resonates with its target audience.
A content strategy that's been well-crafted should involve planning and creating content that aligns with your business or brand's values and goals. This can include various content types: images, videos, text, social media posts, etc.
Videos, for instance, are highly effective for providing project updates or showing your target market a sneak peek of your fabulous new invention — such teasers are great for sharing on Twitter.
Successful content strategies also involve branding and messaging. Establish a consistent tone and style for your content that aligns with your brand's values and messaging.
All of the above factors can help establish your brand and online presence as credible, which is crucial for building a trustworthy product.
Relevant content:
Engage with Your Audience
Active brand engagement with your audience is vital in nurturing a faithful community and creating impactful connections with consumers.
Although, interacting with users on traditional social media platforms goes beyond mere content posting. Promptly responding to comments, messages, and mentions on your social media accounts (alongside ads and other sites) signals that your audience's views and feelings matter to you. After all, they are integral to your online community.
When audience members voice their questions or issues, addressing them in a timely and professional manner fosters an environment of trust and credibility. It showcases your commitment to customer service and can significantly increase brand awareness and enhance your brand's reputation.
The feedback and insights gathered from these interactions can act as a live 'focus group', helping you to gauge what resonates with your audience. Additionally, you can identify trends, preferences, and pain points that can be vital in refining your content strategy.
Active audience engagement can facilitate rapid growth and a sense of community, encouraging audience members to interact with you and other users, leading to more vibrant and dynamic discussions, and fostering a stronger sense of belonging among your followers.
Analyze and Adapt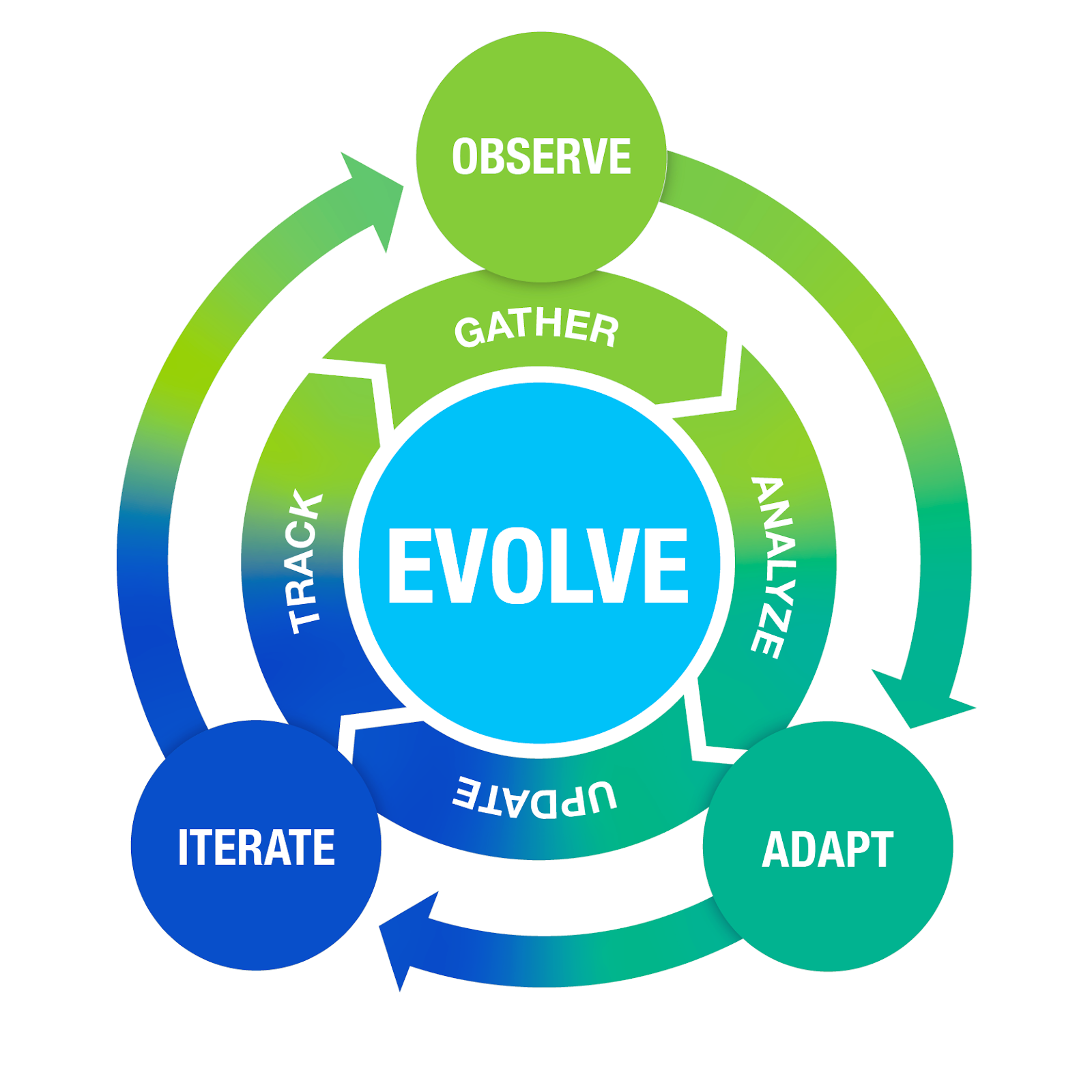 Regularly analyzing social media metrics, such as follower growth, engagements, search results, and click-through rates, enables you to understand your performance and identify trends for further improvements.
Many social media tools allow you to monitor mentions of your brand and engage with social media users talking about it, providing valuable insights into how the public perceives your brand and how you can improve your social media presence in the future.
So, analyze your Web3 status in social media and adapt your strategies to optimize your website and online presence to achieve better results for your Web3 product and in the social media sphere.
Examples of Web3 Firms with a Strong Online Presence
For more information, join us as we explore notable examples of Web3 firms and local businesses that have carved out a solid online presence in the early stages of the blockchain ecosystem.
These firms offer inspiring insights into how businesses can leverage Web3's unique platform capabilities to create a more inclusive, decentralized, and secure digital future.
Whether you're a technology enthusiast, a digital marketer, or an entrepreneur seeking to understand the next wave of internet technology, this overview will provide valuable insights into the Web3 landscape and the importance of these decentralized social media platforms.
Decentraland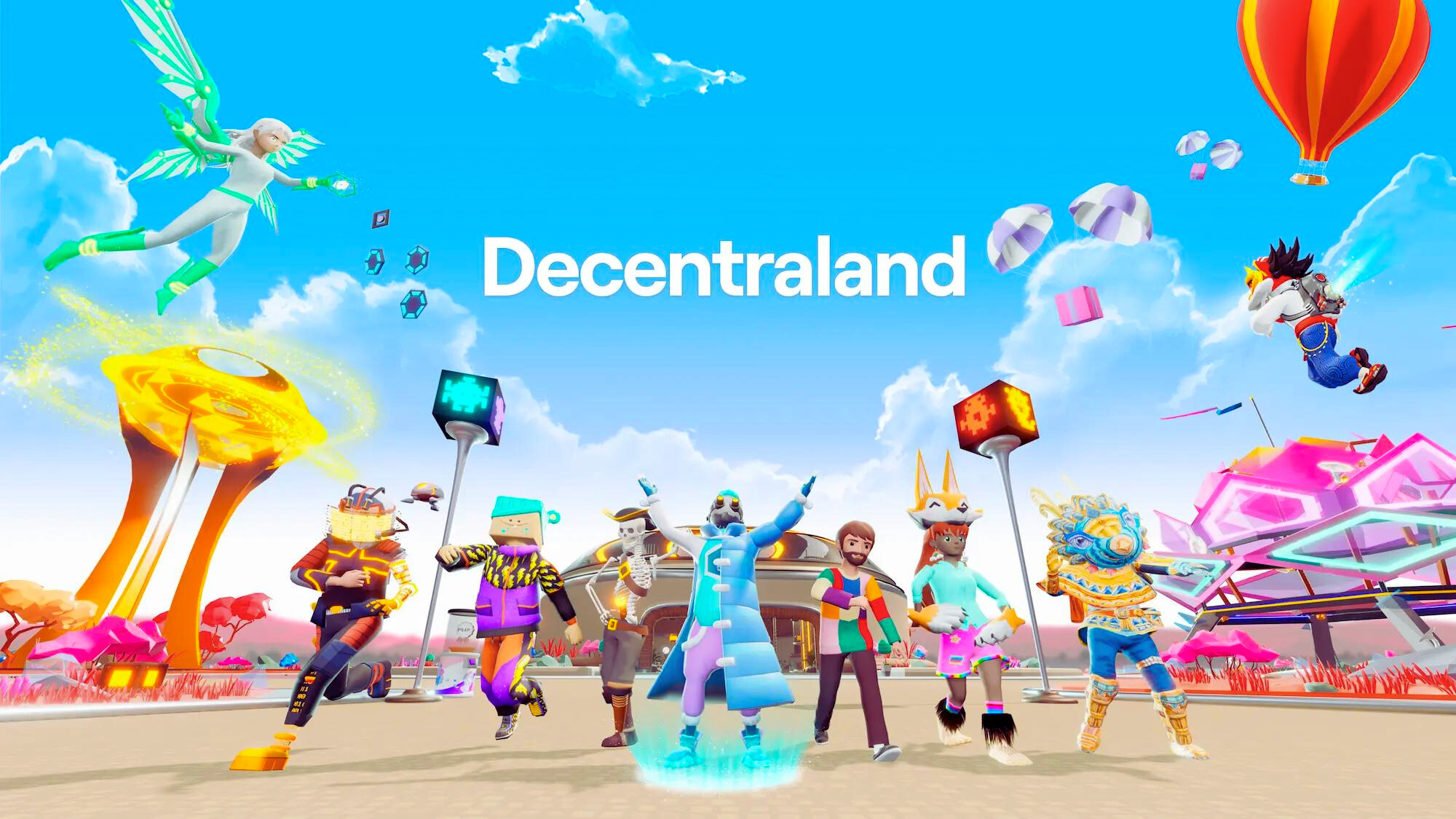 Decentraland's richly imagined universe, where users have the freedom to design and build their digital environments, has captivated a more robust presence than many other metaverse platforms.
To connect and engage with a diverse community, Decentraland fosters a robust and active online presence with several online channels, centralized social media platforms, and ads.
Twitter is Decentraland's most notable communication and social media tool. The metaverse regularly shares updates on the hub, exchanging information about new developments, partnerships, and events in the virtual world.
Decentraland's most engaging announcements include new features for social apps, digital art auctions, virtual music festivals, and competitive gaming events.
The Web3 platform retweets content created by its community members, further fostering a sense of shared ownership to generate content and active participation in the decentralized social media platform.
Beyond Twitter, Decentraland interacts with users and its community on various other platforms online to bring in more consumers. Its Discord channel, for example, hosts detailed discussions, technical support, and community brainstorming sessions.
Moreover, Decentraland shares YouTube tutorial videos, developer diaries, and event highlights.
Polkadot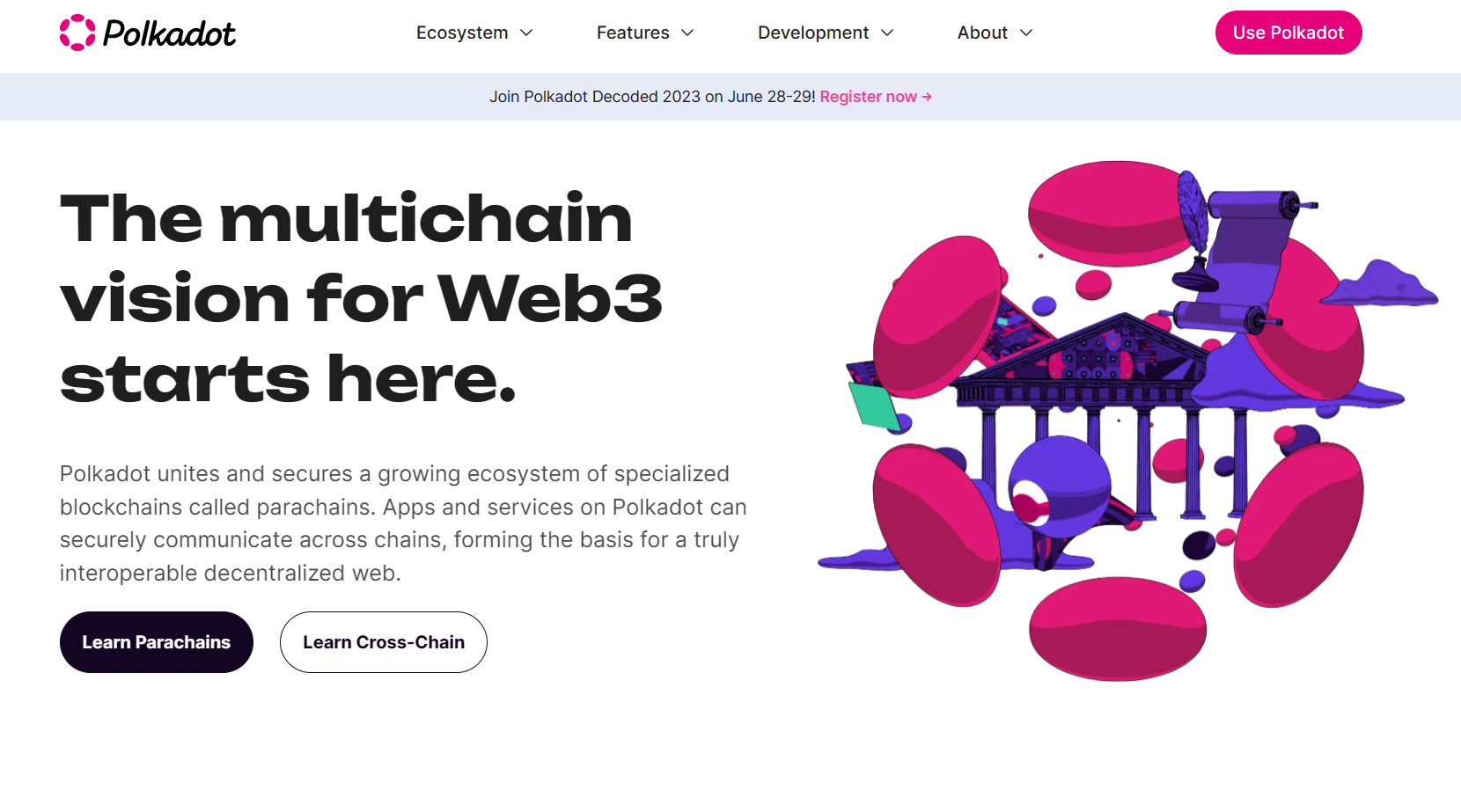 Alongside the benefits of its revolutionary approach, Polkadot has gathered a large and active community of users interested in developing and applying cross-chain technologies. To cater to its enthusiastic audience of customers, Polkadot has cultivated a significant presence across several online platforms.
Like many other Web3 companies, Polkadot's Twitter account is a crucial outlet for community updates and engagements. It provides users a platform for sharing news about technological developments, partnerships, and upcoming events.
Additionally, Polkadot uses Twitter to educate its audience on complex technical concepts by adding links to Lite papers and uploading videos, contributing to much-needed education regarding Web3.
On LinkedIn, Polkadot maintains a more professional presence, sharing news about institutional partnerships, local businesses, collaborations, and technical milestones. LinkedIn also spotlights contributors to the Polkadot ecosystem and posts job opportunities, helping to attract new talent to the project.
Reddit hosts an active Polkadot community where enthusiasts discuss technical aspects of the project, speculate on future developments, and share the news. Polkadot's Reddit community is also a venue for more in-depth engagement, with Ask Me Anything (AMA) sessions featuring team members and key figures from the Polkadot ecosystem.
On top of that, Polkadot leverages YouTube to create and provide educational content. Videos range from beginner-friendly introductions to deep dives into technical components, offering viewers a well-rounded understanding of the project and its current and potential customers' benefits.
Sometimes, the multichannel platform posts its YouTube video creations on Twitter and other social media channels for additional distribution and awareness of its products — to stay relevant and discuss its upgraded version.
Bored Ape Yacht Club (BAYC)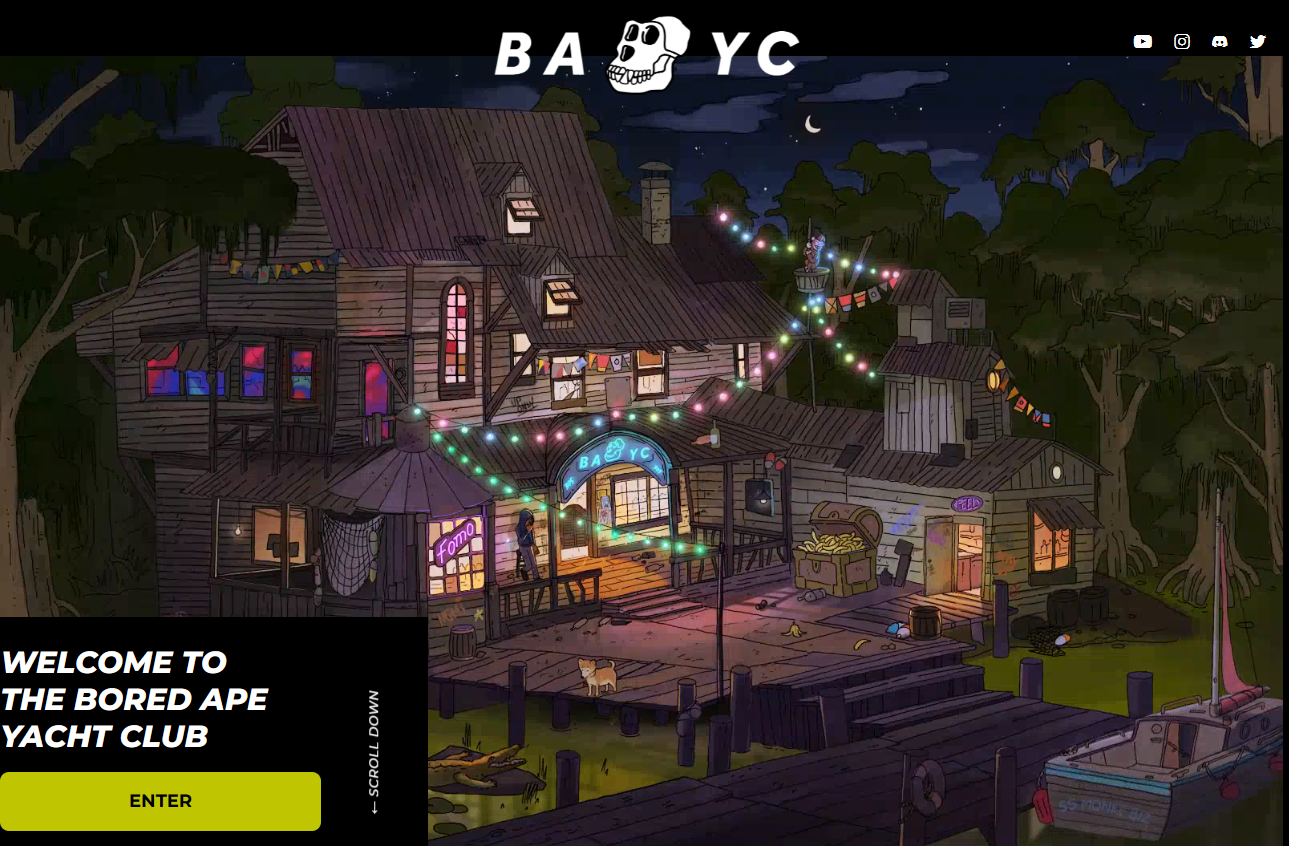 The strong social media, website, and online presence of Bored Ape Yacht Club (BAYC) is a testament to the powerful influence of NFTs and digital communities. The project has built a highly active, vibrant, passionate community across several decentralized social media platforms.
BAYC has a significant online presence on Twitter, regularly sharing updates about the project, new releases, and community highlights. In addition, the Twitter feed of BAYC showcases the various Apes owned by community members, demonstrating the collection's diversity.
Twitter is also where BAYC announces collaborations with other projects or platforms. Typically, both parties use the social media hub to exchange information and upcoming releases to boost business further.
Discord is the heart of the Bored Ape Yacht Club's community, serving as the central hub for communication and announcements. It's the go-to place for in-depth discussions about the project, upcoming events, and socializing with other Ape owners.
BAYC's website, Facebook, and Medium blog platform are also essential to its online presence. These platforms provide more detailed information about the project, guides on buying and selling Apes, and in-depth updates and announcements, sometimes linked to the OG NFT project's Twitter handle.
Since its launch, BAYC's social media presence has played a crucial role in the project's growth. By sharing updates, showcasing community creativity, and promoting events and collaborations, the Bored Ape Yacht Club has fostered a strong sense of community among its members and sparked widespread interest in the broader NFT space.
Conclusion
Social media channels provide an excellent medium for advertising goods and services online, particularly in Web3.
Implementing these top five strategies — understanding who your target customers are, selecting suitable social media channels, creating a robust content plan, interacting with your audience, and evaluating your social media data — can help position your brand's website, social platform, Web3 platform (exchange, metaverse, etc.,) business or enterprise as a trustworthy and influential digital entity on-chain.
To save time and boost your project or business to the highest heights, we at Coinbound specialize in helping Web3 projects create a robust online business presence.
We can provide expert tips and tricks on engaging with your target demographic and audience through social ads, developing a useful content strategy by analyzing your website and social media metrics and boosting your brand.
So, follow our top five tips and leverage Coinbound to establish a solid online presence, drive rapid engagement growth, and succeed in this rapidly evolving space.